Rush Hour Directions to Arthur M. Strauss, DDS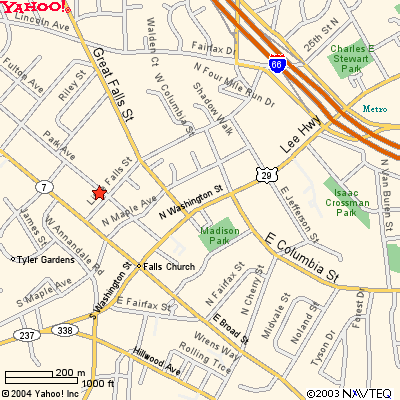 During Rush Hour
Via 495 Beltway from south of I66
Exit 50B to Arlington Blvd. toward Falls Church, veer right to Fairview Park Drive, then left on to Fairview Park North
Turn right at the light onto lee highway heading east for about 2 miles, to one block past Broad Street (a section of Route 70) then
Turn right onto Park Avenue to 311. It's the second building on the left hand side of the street just past your second intersection at Little Falls Street
Via 495 Beltway from north of the Washington Dulles Expressway
Exit 45B from your left lane onto Washington Dulles Expressway south toward I66 east but almost immediately at first set of exits onto Dolley Madison Boulevard (Route 123)
Exit onto 19B to Mclean, Chain Bridge onto Dolley Madison Boulevard north and at first street
Turn right onto Great Falls Street for about 4 miles to traffic light after one at Lincoln Drive and
Turn right onto Little Falls Street to end of the block and
Turn right onto Park Avenue to 311, the second building on your left. Parking lot entrance is between the corner building and ours.
In lieu of Route 66 to and from WDC
Get onto Lee Highway (Route #29) which merges with George Washington Memorial Parkway via Spout Run connector or the Key Bridge in Roslyn. Lee Highway becomes Washington Street N within the City of Falls Church as it crosses over I66
Continue on Washington Street N for about 7 blocks and
Intersects with Park Avenue 2+ blocks east of the office.
In lieu of Route 66 North of the 495 Beltway
Follow Lee Highway which is called Washington Street N within the City of Falls Church to or from the office from anywhere south of the junction of I 66 & I 495
Fairview Drive connects Lee Highway to I 495 at exit 50
Other connectors between I 66 and Route 29 west of I495 include Nutley Street (Route 243), Chain Bridge Road (Route 123) and Fairfax County Parkway (Route 7100) respectively entering /exiting I66 at 55, 60 & 62.