Oral Appliance Therapy
Oral Appliance Therapy involves the selection, design, fitting and use of a specially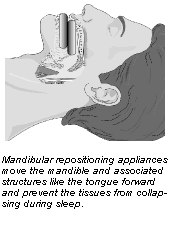 designed oral appliance that, when worn during sleep, maintains an opened, unobstructed airway in the throat. Oral appliances that treat snoring and obstructive sleep apnea are devices worn in the mouth, similar to orthodontic retainers or sports mouthguards. They have several advantages over other forms of therapy. Oral appliances are comfortable and easy to wear and care for. They are small and convenient, making them easy to carry with you when you travel. Treatment with oral appliances is reversible and non-invasive.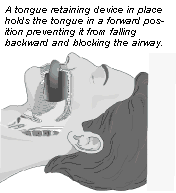 Oral Appliance Therapy is becoming recognized by the medical community as an effective treatment option in the management of sleep breathing disorders. Medical and dental researchers have joined together to evaluate and improve the outcome of treatment with oral appliances.

Oral appliances may be used alone or in combination with other means of treating Obstructive Sleep Apnea (OSA), including general health and weight management and surgery or nasal continuous air pressure (CPAP). Oral appliances work in several ways:
By repositioning the lower jaw, tongue, soft palate and uvula;
By stabilizing the lower jaw and tongue;
By increasing the muscle tone of the tongue.
Oral Appliance Therapy can take from several weeks to several months to complete. Even after the intial phase of treatment is complete, we will continue to follow you to be sure that treatment remains successful and to evaluate the response of your teeth and jaws.

Recognizing the variation between individuals and to maximize the potential for success, this practice customizes therapy to find and work with the "appropriate" oral appliance for each patient. This practice's approach can be found in the Oral Appliance Therapy Atlas (400kb .pdf) developed by Dr. Strauss and is titled, Oral Appliance Therapy and Oral Appliances for the Management of Snoring & Obstructive Sleep Apnea.